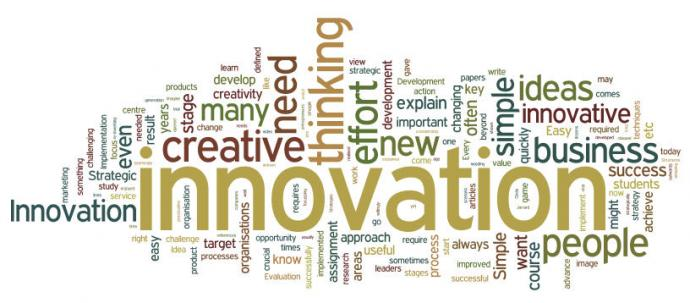 One would think that resource-rich organizations are able to foster new ideas better than poor, cash-constrained startups.
However, it is remarkably difficult to innovate within a large health system on an ad hoc basis, for the same reason that it is difficult to innovate in a large corporation.  For one, it's all too easy to feel like a cog in a large machine.  Fear of failure, perceived lack of reward, and a paucity of institutional support are other reasons why innovation stagnates in otherwise resource-rich organizations.
But little-fish-big-pond problems are not the only ones that plague innovation.  This phenomenon is well-recognized as part of the key reasons why disruptive innovations are notoriously difficult to launch from within a corporation.
If you feel this way, you may be an "intrapreneur."
Fostering "Intrapreneurship"
To combat the inherent glacial inertia that characterizes the innovating within a healthcare mammoth, incubators support health system "intrapreneurship" – entrepreneurial endeavors within large corporations.
Intrapreneurs are unique from typical corporate employees in their way of thinking.  They are more risk-tolerant and, when they fail, recover quickly.
Innovators span the entire hierarchy of a hospital structure.  They are frontline workers who see the problems of everyday practice: doctors, nurses, technologists, aids, transport staff, front desk clerk.
To nurture out-of-box thoughts and manage the inherent risks that come with innovation, a common approach is carving out a dedicated organizational subgroup.  Innovators can recognize these experts, support promising ideas, creating minimum viable products, and commercialize successful ventures for scale.
Incubators
In healthcare, some university systems have recognized the need to push technology forward and created incubators.  For example, Massachusetts General Hospital has a Center for Primary Care Innovation Center.  Mayo Clinic, University of Pennsylvania (Penn Medicine), and Boston Children's Hospital also have their own respective innovation centers.
Recognizing that frontline professionals are also more likely to turn pain points into innovation, health-focused commercial accelerators such as DreamIt Health, Rock Health, and Health Box have also been developed to offer yet another outlet. For the strong-willed and risk-tolerant entrepreneurial innovator, non-academic incubators offer a different option: If you can't develop your idea inside your hospital system, here is a space to grow the concept outside of it, and we will help you launch.