In this briefing:
Research: F-18 FDG PET-CT predicts Alzheimer's disease with 100% sensitivity and 82% specificity
Research: An "explainable AI" model for intracranial hemorrhage
Hardware: Specialized AI hardware promises to accelerate network training over 1000-fold in 5 years.
Startup: Philips funds 19 AI-related imaging startups in 14 countries
Marketing: Healthcare AI expected to grow 20-fold by 2024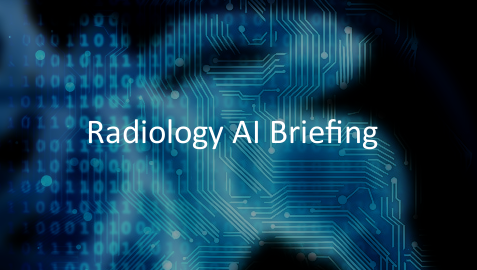 Stay up to speed in 2 minutes. Radiology AI Briefing is a semi-regular series of blog posts featuring hand-picked news stories and summaries on machine learning and data science.
---
Published in the November 2018 issue of Radiology, researchers from UCSF, UC Berkley, and UC Davis, created a deep learning algorithm for early prediction of Alzheimer's disease with 82% specificity at 100% sensitivity.  The researchers used the InceptionV3 architecture on FDG PET/CT exams.
Researchers from Massachusetts General Hospital created a deep learning model with "attention map and a prediction basis retrieved from training data to enhance explainability." The algorithm aims to tackle the black-box problem in deep learning where it is often exceedingly difficult to understand how the network arrives at a particular diagnosis.
In an episode of The O'Reilly Data Show, Andrew Feldman (founder of Cerebras Systems) shares his vision of creating an AI chip that can accelerate deep neural network training by up to 50X over the next 2-3 years, and then another 10-25X over the following year. This innovation can change the AI playing field in several ways:
Allow small, low-power devices to execute powerful AI inference.
Reduce training time for extremely complex neural networks from days to a coffee break.
Philips established innovation hubs in 14 countries and funding 19 startups, geared to disrupt a variety of areas in radiology, cardiology, and other image-intensive specialties.
Brain imaging
Bone disease
Cardiac intervention
Radiotherapy planning and QC
Surgical planning
Cardiac imaging
Psychiatric disease diagnosis
Pulmonary nodule tracking
Dementia and MS
Radiology workflow
Ultrasound
Oncology research
Energias Market Research is a private market research company. The report predicts that AI in healthcare:
"… is expected to grow significantly from USD 1.12 billion in 2017 to USD 19.9 billion in 2024, at a CAGR of 48.7% during 2018-2024…. Moreover, rising healthcare applications of AI, and increasing capital investments in AI are further propelling the market growth."
However, the market cautions that concerns for data privacy and data security can hamper growth.