In this briefing:
Research: Machine learning algorithm predicts wait time for outpatient imaging.
Commercial brain imaging AI receives FDA clearance
Paul Chang shares insight on the future of AI
Dreyer and Allen publish their views on the radiology AI ecosystem
CB Insights publishes market research on Google's increasing involvement in healthcare AI.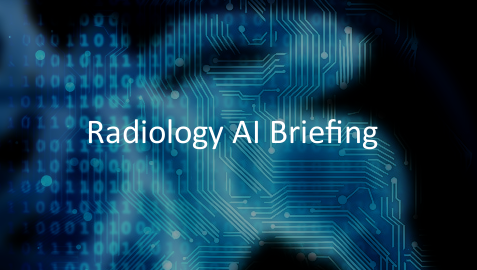 Stay up to speed in 2 minutes. Radiology AI Briefing is a semi-regular series of blog posts featuring hand-picked news stories and summaries on machine learning and data science.
---
Most machine learning algorithms are primarily a rebranding of predictive analytic techniques, so ML can be used to optimize workflow and predict wait time is a promising use case. In an article published in JACR, researchers from MGH used a variety of ML algorithms and found predictors for delays in the radiology waiting room using human-selected features such as date, time, scheduling conflicts, open exam rooms, and patient flow.
"In stroke, good patient outcomes can come down to a matter of minutes," said Dr. Chris Mansi, neurosurgeon, CEO and Co-Founder of Viz.ai, Inc.
Viz.ai, a San Francisco and Tel Aviv based technology firm creates software focusing on neuroradiology use cases including stroke triage and large vessel occlusion.
In a post through Clinical Innovation +Technology, Paul Chang the vice chair of radiology informatics in University of Chicago shares these insights:
It will take longer to incorporate and consume AI and deep learning than to adopt them.
We don't have the data needed to train and validate deep learning.
Healthcare industries don't have the proper IT infrastructure to feed and consume AI and deep learning data.
Weak data infrastructure and inefficient workflow automation.
In a JACR commentary, Bibb Allen from Grandview Medical Center and Keith Dreyer from Partners Healthcare share their insights on how AI developers and radiologists may work together to tackle complex workflow and interpretive tasks tailored for the individual institution.
Healthcare startups have consistently attracted funding $3 trillion industry. And now, Google is also entering the fray. In addition to Viz.ai which has investment from Alphabet (Google's parent company) Chairman Eric Schmitt's Innovation Endeavors, increasing number of new companies have also received funding from Google, from just 8 ventures in 2014 to 27 in 2017.  New market research from CB Insights shares its analysis on Google's healthcare strategy.