In this briefing:
RSNA launches a new AI journal.
ACR makes several moves to advance the use of artificial intelligence in the future of medical imaging.
Researchers publish in high impact journal the successful use of AI to detect breast density.
ACR and MICCAI sign agreement to advance AI in medical imaging.
Geisinger declares successful implementation of algorithm to improve time-to-diagnosis of intracranial hemorrhages 20-fold.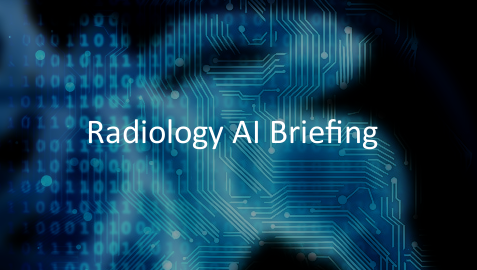 Stay up to speed in 2 minutes. Radiology AI Briefing is a semi-regular series of blog posts featuring hand-picked news stories and summaries on machine learning and data science.
---
RSNA is creating a new online journal focused on AI named, aptly, Radiology: Artificial Intelligence, with Dr. Charles Kahn from Penn Radiology at the helm as its editor. The journal will "highlight emerging applications of machine learning and artificial intelligence in the field of imaging," according to a prepared statement.
The second American College of Radiology (ACR) DSI Data Science Summit: The Economics of AI in Health Care will be held at the Society for Imaging Informatics in Medicine (SIIM) 2018 Annual Meeting this year.  The summit will take place on May 30 and will explore the "role of AI in value-based reimbursement models and the development of quality metrics for radiology."
Article published in Annals of Internal Medicine this month showed that breast density as predicted by AI versus radiologists have similar sensitivity and specificity for future cancer in patients prospectively followed for up to 5 years versus matched controls.
ACR and Medical Image Computing and Computer Assisted Intervention Society have signed an agreement to advance the use of artificial intelligence. "The ACR is actively creating use cases for imaging AI and will be working with MICCAI under this memorandum of understanding to leverage this knowledge base in MICCAI's imaging AI competitions."  As part of this partnership, ACR's incoming board chair, Dr. Geraldine McGinty will be delivering the keynote address at MICCAI's upcoming annual meeting.
Researchers at Geisinger is attempting to deploy algorithms to reduce turnaround time for the detection of high impact diagnoses on brain imaging.  In a news release, Geisinger shares that its implementation has "reduced the time to diagnosis of intracranial hemorrhages by 96 percent."